Holy cow, people! It's been two whole weeks since I've been here to post. That's definitely some sort of record, and one I'm not anxious to break. I missed you guys!
All is well here. Mr. Right and I decided to host a bunch of friends for Easter dinner, which was awesome and lots of fun. Unfortunately, a few days later we decided to go on a 4-wheeling expedition...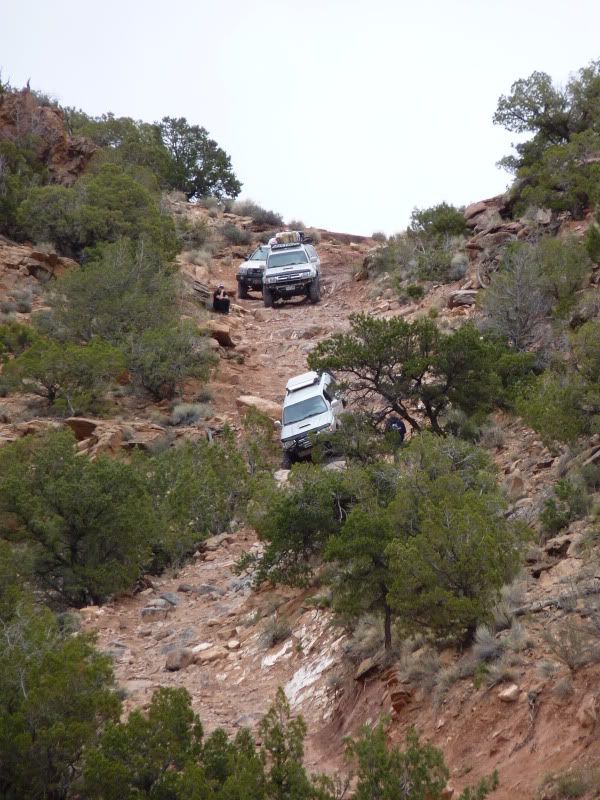 with a bunch of his friends trekking for 4 days through the wilderness from the Colorado border into
Moab, Utah
on the
Kokopelli trail
.
Super fun, but the combination of preparing for both knocked me out of commission for doing anything else (even knitting) over the last couple of weeks.
But now we're back, and normal life can resume... at least a little bit. I didn't want desert dust on my
Narragansett
, so I couldn't take it as a trail project. Boo. I've managed to almost finish sleeve #1, and moving on to sleeve #2 any minute now. Weird, but the sleeves are taking longer than the entire rest of the sweater. No matter, our weather is still springy enough that I'll be able to squeak out a wearing or two before it gets too warm.
I did manage to get a bit of knitting done on the road, though. I dove into the
Dishie
stash and came up with some awesome orange kitchen cotton that seemed destined to become a
Yoshi wash cloth
. It's about half done now, and would be altogether finished if I could knit in a moving vehicle without barfing all over the place. As it is, the dramamine and I could only manage to knit when we were stopped on the trail. Pretty decent progress, considering.
And now, a wash cloth story (exciting, no?)... a million or so years ago, I knitted a
Snoopy wash cloth
and blogged about my plans to knit an army of them to curtail our paper towel use. I wasn't sure how it would work out, but lots of folks chimed in with encouraging words, which was very cool. I haven't managed to squeak another of these out until now, but I gotta say, I love the heck out of that thing and I use it ALL the time. It scrubs tile and cleans baseboards and mops up messes in the fridge (not all simultaneously, mind you. I promise it gets laundered in between), like a champ. And it still looks pretty good:
The moral of the story is: Knitted wash cloths = Awesome. You should make some. But first, you should check out all the
WIPW
entries over at
Tami's
this week. There are bound to be a zillion cool things happening over there.
You should check back in here too from time to time. I'll have some fun news to share in the next couple of weeks (teaser alert!!), and I promise to start blogging on a more regular basis again. Who wants to miss that? Didn't think so. See you soon.
Cheers!
PS. Thanks for all the fun comments about
the tree pictures
! Turns out it's a crabapple tree. Go figure!